The industry has seen some mergers, and may have a few new players soon, but the overall prognosis is solid.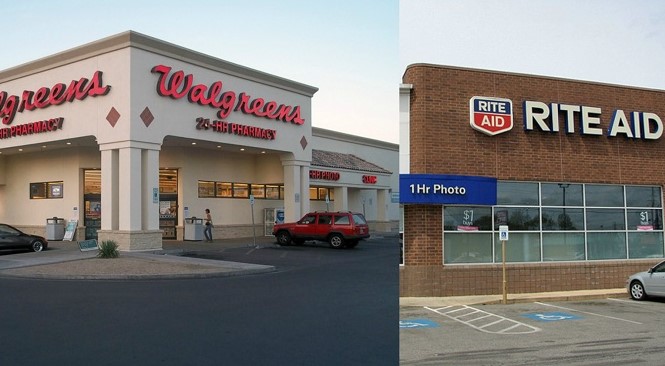 CHICAGO—The US drugstore industry has undergone a lot of change in the past few years, including several major mergers and acquisitions, and other players could soon enter the market. But whatever uncertainty any of this has caused, cap rates for the largest chains remained relatively steady in 2017. And experts say those rates probably won't change much in the coming year.
"We do see interest rates going up in 2018," Chad M. Firsel, president of Quantum Real Estate Advisors, Inc., tells GlobeSt.com, but any impact on cap rates should be modest, partly because there is a lack of inventory available for sale, especially of properties with long lease terms. Quantum, a Chicago-based firm that specializes in investment sales brokerage, just released its latest pharmacy industry retail report. It found that In the past year, rates for Walgreensproperties dropped slightly, from 6.10% to 6.08%. CVS stores also saw a small movement and increased from 5.92% to 5.96%. Firsel says cap rates should go up just a nominal amount in 2018, probably between five and 15 bps.
CVS and Walgreens are the market leaders, accounting for more than half of the market share in top metropolitan areas. But right now, the two have different profiles.
Walgreens completed its purchase of Alliance Boots, a European healthcare firm, just over three years ago, forming the Walgreens Boots Alliance. And last year, it received government approval to buy 2,186 Rite Aid stores. "We certainly don't see Walgreens as a bad company," Firsel says, and it's the largest chain, but it has also drastically cut back the size of its real estate team, leading to some uncertainty about its future growth strategy. It may, however, have just decided to hit pause as it incorporates these acquisitions into its other operations.
CVS Health, on the other hand, "still has a great real estate department," Firsel says, a sign it intends to continue with new store development. And in December, in a bid to transform from a pharmacy company into one that captures more of what consumers spend on healthcare, it agreed to buy the insurer Aetna.
Overall, the prospects for anyone in the pharmaceutical business is quite strong. The US population keeps aging, and advances in medical treatment keep pushing demand higher. Drugstores rely heavily on their prescription business, which has grown just as front of store sales have decreased. Total 2017 retail sales for prescription drugs filled at pharmacies surpassed $397 billion, "and we don't see any contraction in the industry," Firsel says.
That prognosis has other firms taking a close look at entering the pharmacy business or expanding an existing presence. Albertsons, for example, entered a definitive merger agreement with the 2,560 Rite Aid stores left out of the Walgreens buy. Walmart has been nosing around as well. Firsel does not yet, however, consider Amazon a potential competitor, at least not in the near future. "They don't even have the proper licensing yet."
Add in the uncertainty over how much the expansion of e-commerce will have on brick-and-mortar drugstores, and the market for investors could soon look very different, he adds. "The next 24 months are going to be interesting."